Posted on Thursday, November 19, 2020 by Rae Shanahan
Looking at the American workforce today, you'll see teams that look a lot different than a decade ago.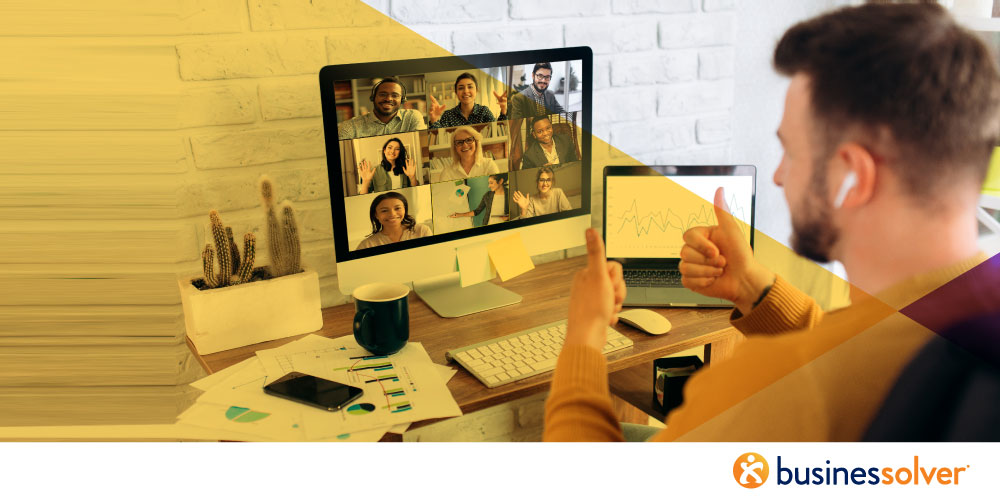 Traditionally, Boomers and Gen Xers have distinct divisions between work and their personal lives. By contrast, Millennials integrate their job as part of their life, which means they ebb and flow between the two throughout the day.
But in our current workplace there are a lot more unique challenges to consider when thinking about what flexibility looks like in your organization. It's best to have clear policies in place in regard to accountability and project tracking so that both the more traditional 9-5'ers as well as the 7-3'ers can be on the same page.
Secondly, it's important to have multiple communication channels that allow easy collaboration. For example, a group chat function so you can easily send messages to team members about projects or easily ping someone to have a check in meeting. Setting clear expectations around projects and meetings will help all generations keep on track and play nice despite the increased distance between teams.
Pro Tip: Support your potentially remote workforce with these tips.
Create an online hub and/or loop for general communication. Keep the big announcements in a single, consistent spot online.
Set up a virtual watercooler. Everyone likes to take a mental break from the work day to chat about the latest Netflix series or giggle at viral videos. Try doing remote happy hours to get teams together and allow for some good old fashion fun and a break from the usual human interactions at home.
Manage output, not hours. Clear employee goals and expectations – followed up by even clearer measurement of what's been accomplished – is critical to success with a remote workforce that may also be dealing with a number of additional factors in their home life.
2. What is your organization's approach to benefits when considering unique generational needs?
Across all generations, you'll find common ground in three key areas – health, money and family.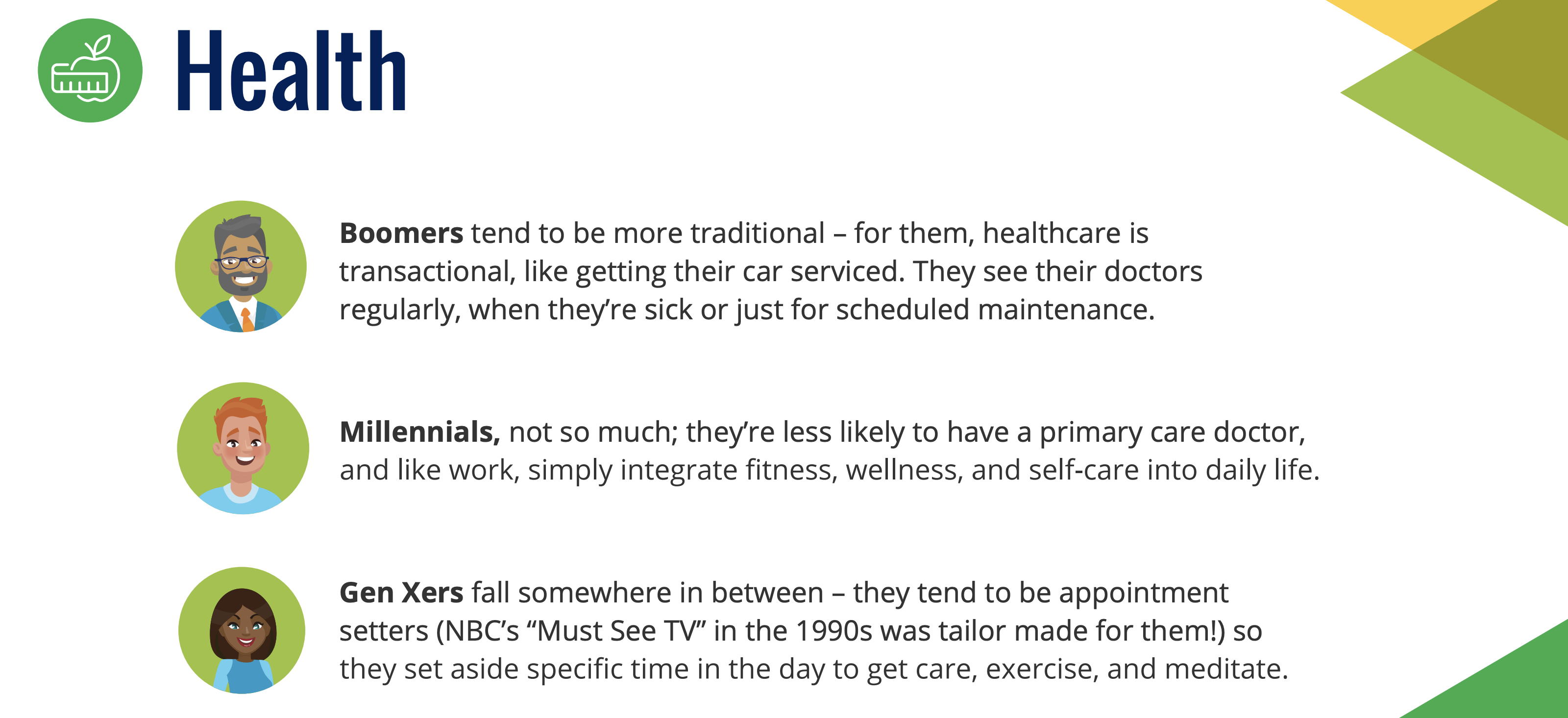 Money
Whether concerned with paying for college debt, continuing education, their children's education or saving for retirement – perhaps all of the above – a consistent need across all generations is creating more financial freedom and security.
In 2019, Americans collectively owed more than $1.41 trillion in outstanding student loans, a figure that's growing nearly $3,000 per second. Only 22% of Boomers believe they are doing a good job of preparing financially for retirement and 45% have saved nothing at all toward retirement. Gen X lost nearly half their savings in the 2008 economic collapse, an average $33,000 per person. And Gen Z, although new to the workplace and the financial markets, are already acting differently than previous generations. And none of this addresses the financial shortfalls occurring during the pandemic and are still to be completely realized.
Family
Beyond paying past student debt and planning for future retirement, employees are seeking their employer's support in meeting life milestones in the present. Gen X employees find themselves at a key crossroads for such markers and likely will be engaged by paid parental leave and company-sponsored child care options as well as resources for caregivers of aging parents or relatives.
Pro Tip: Use this matrix as a starting point for taking a cross-generational approach to your benefits strategy.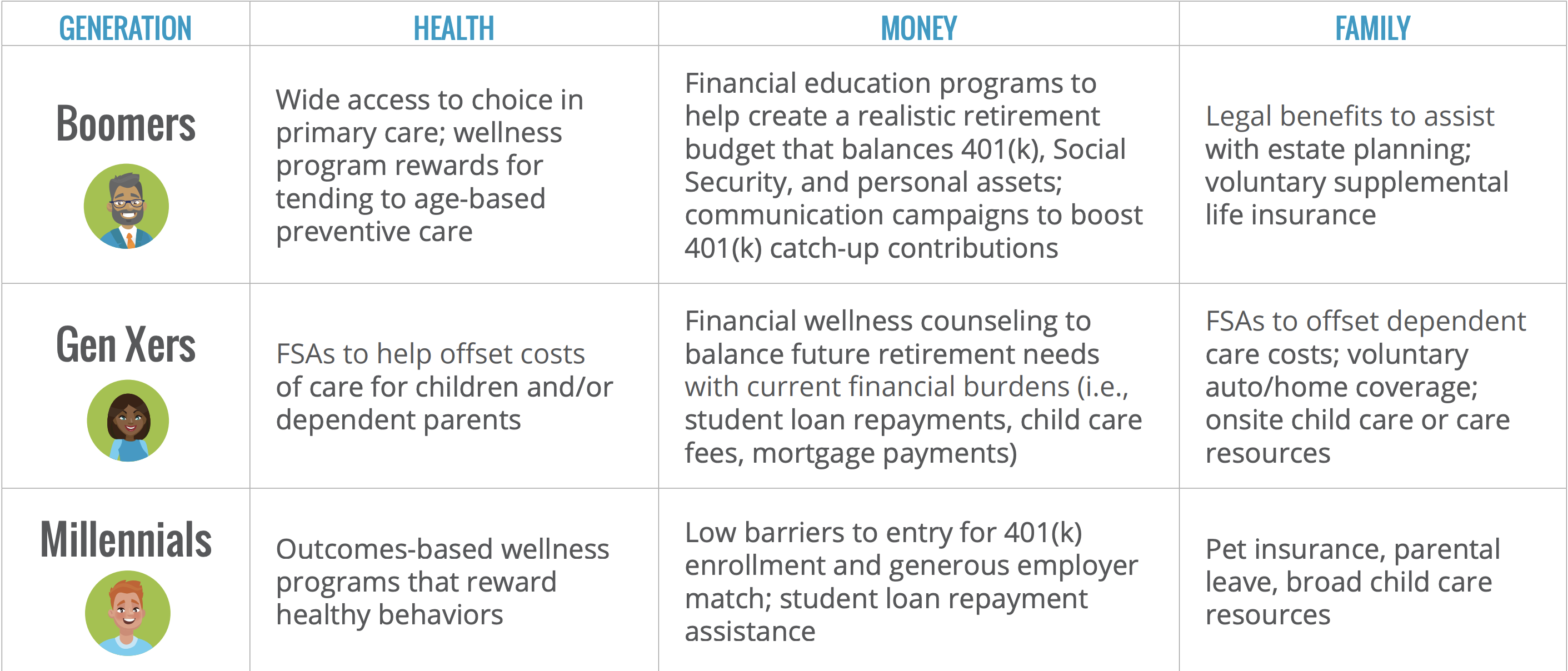 3.How does your organization foster a culture of empathy to help break down generational bias?
We're all engrained with certain biases that influence how we think and act. These biases take shape during childhood – usually formed through significant cultural events and influence from our parents. What Boomer doesn't remember the nightly newscast horrors of the Vietnam War? Millennials attitudes toward accomplishment no doubt were shaped by their "helicopter parents." Gen Z was affected by their parents going into debt. Gen Xers began thinking about work and information access in an entirely new way through the personal computer. Work preferences and working styles all stem from the perceptions and biases we learned through these events. The key to overcoming these biases is fostering a workplace culture of empathy.
Pro Tip: There are tactical ways you can weave empathy into your benefits program as well.
These are the top benefits that employees agree go "above and beyond" to demonstrate a culture of empathy:
Gym reimbursement/membership
Flexible work hours
Flexible work location (working from home or remotely)
Wellness programs
Paid paternity leave
Employer contributions to retirement plans
Commuter benefits
Paid time for community service
Paid 12-week maternity leave
Flexibility. Personalized benefits. Empathy.
Too often, these are reduced to buzzwords that oversimplify their importance in your organization's strategy. However, they still have powerful weight with employees of all ages. When used intentionally, thoughtfully and effectively, they have the power to build bridges to success, no matter how wide the generational divide.
If you are interested in learning more about empathy, check out our recent study below.
{{cta('f85063d5-89e0-436e-a4d6-bd3e8624841f')}}