Posted on Friday, September 20, 2019 by Sherri Bockhorst
If a successful employee is like a flashy car zooming down the highway, benefits are the gasoline that keeps that car moving.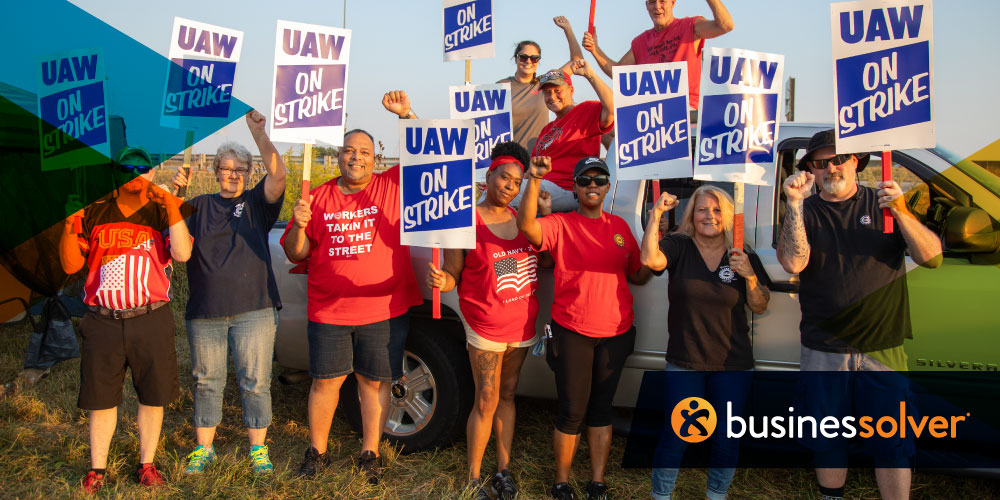 Studies have shown that benefits increase employee engagement and overall job satisfaction, which positively affects productivity numbers and retention rates. Plus, employees overwhelmingly feel that benefits are empathetic and when employees feel their employer empathizes with them, they are more likely to feel loyalty and, in fact, are willing to work longer hours.
Benefits are important to keep that car moving. However, there is a population that keeps popping up in the news that does not get to pull into a gas station for a benefits fill-up: part-time and temp workers. This is causing major waves across the nation with new calls for better benefits coverage or options for the alternative workforce. In fact, workers are striking for them.
A strike for better benefits.
As this blog is released, the United Auto Workers strike against GM will be entering its fifth day with no concessions in sight. Fueling this first strike at GM in 12 years, workers point to the record $8.1 billion in profits reported by the company and have demanded higher pay, affordable healthcare benefits, better job security and better opportunities for profit sharing. One of the other major issues on the negotiating table is the demand for better treatment and opportunities for the temporary workforce.
According to The Wall Street Journal, temps account for about 7% of GM's US-based factory workforce, versus more than 20% for the foreign-owned car plants. Auto executives indicated they rely on temp workforce to keep them agile if demand slackens without taking away from full-time employee pay or benefits.
UAW officials argue that it's unfair to expect the same work product from a temporary worker while failing to pay them as much or offer them any type of benefit. "If you're going to have them, at least give them an opportunity to become full-time," Keith Barbee, a UAW-represented full-time worker at GM's Detroit assembly plant said of temp workers. On average, a temp employee at GM starts at about $15 an hour while full-time employees on the assembly line make $17 or more, and up to $28 an hour after eight years.
Other companies are making cuts.
GM is a large company; however, with benefits packages that can cost upwards of $20,000 annually per employee, the cost of providing temporary or part-time workers full benefits is not cheap. As healthcare costs continue to rise, other companies are also cutting part-time benefits like Amazon-owned health food store Whole Foods.
Cutting benefits is often considered a takeaway and, with an historically tight labor market, not offering coverage to certain workers can cause a recruitment and retention effect. This is especially true as major employers like Starbucks are extending their coverage.
It may make business sense not to offer benefits to non-traditional employees, but there's a cost there too. Case in point, according to some analysts, GM could be losing anywhere from $50 – $100 million a day from this strike.
A new solution.
It's a pipe dream to believe that all companies will be able to fully cover all their employees' benefits—it's simply not cost-effective. But there are some creative options that can help fill the gap and give employees the help and support they need to do their jobs and thrive. One example of this is the new Individual Coverage HRA.
On June 13, 2019, the federal government issued a rule that finalized proposed regulations and introduced "individual coverage HRAs" effective Jan. 1, 2020. Unlike the HRAs that came before, the new regulations allow employers to offset some of the cost of premiums their employees pay for coverage through health insurance exchanges or products like Businessolver's MyChoiceSM Marketplace. By contributing to an ICHRA employers are able to spend a fixed amount, which can help control costs. Additionally, by providing an avenue for part-time employees to get benefits, employers can help employees get the support they need while cost-effectively meeting their objectives to foster a better workplace environment with less cost risk.
Interested in learning more about ICHRAs? Check out our white paper below.
{{cta('bc1c3710-7d0d-4da3-a893-18e8095a0e39')}}