Posted on Thursday, May 6, 2021 by Bridget Mortland
Day one of Vision 2021 is a wrap!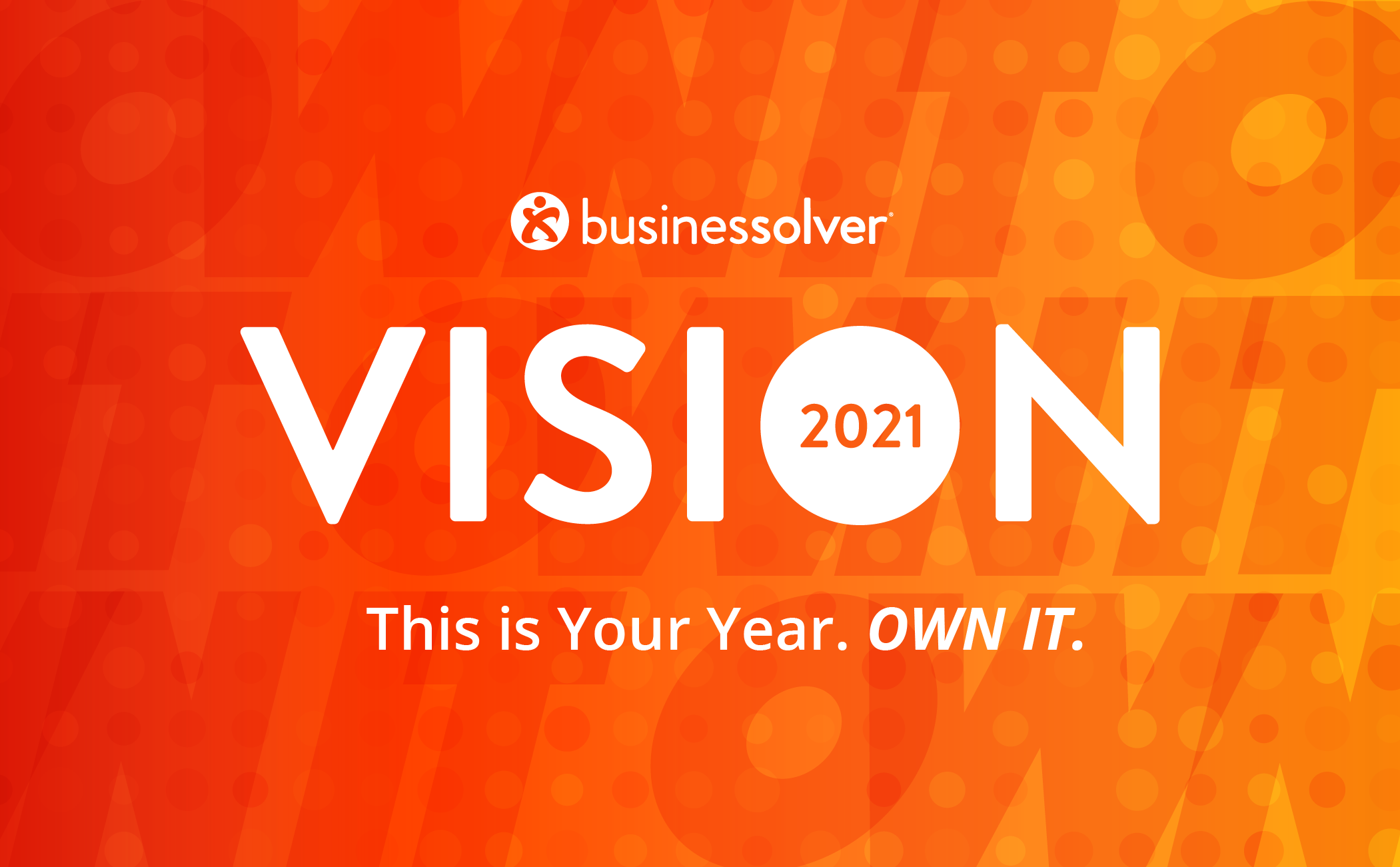 Our annual conference, where we gather our clients, partners, and HR leaders to strategize and celebrate the best and brightest in benefits.
The Vision theme this year is OWN IT, and our expert speakers packed day one with info and insights on how to do just that .
Kicking off with a keynote from Kevin Oakes, CEO and co-founder of i4cp, we heard about building a sustainable and healthy corporate culture. As a foremost leader in human capital research , Kevin presented ideas to help employers create a blueprint for a true cultural renovation to lead to more productive and loyal employees.
Panel discussions tackle multiple HR hot topics
Next, we discussed how to Own Organizational Inclusion: Eliminate Exclusion from Wendy Rentschler of BMC Software, Alysha Campbell of CultureShiftHR, and moderated by Businessolver's own Jamon Harrell. The panel offered insight from their personal and professional journeys on how to "do the work"—educate ourselves and employees about racism and incorporate more inclusive policies and practices into our workplaces. Also, the panel defined "microaggressions," how those impact employees, and how to address them to create healthier and more equitable work environments.
The Businessolver Empathy Special Report on Mental Health shows that 41% of Americans over the age of 18 now struggle with mental health or substance abuse. With nearly half the workforce at risk, HR leaders are quickly becoming more attuned to the interventions and supports employees need in the workplace. Our panel, Own Mental Wellness: Hope for the Whole Employee, was led by our own Chief Strategy Officer Rae Shanahan, and featured panelists Carol Harnett of the Council for Disability Awareness, Jason Youngblood of Cigna, Dr. Jessica DiVento of YouTube, and Tanner Krause of Kum & Go. They shared data and personal stories about how the effects of isolation and increasing technology are affecting employees. We looked at what employers can do to create a safe space in the workplace and provide more mental health support.
One of the most popular sessions of the day was Own Your Future: A Conversation Around Trending HR Topics, where some of our clients talked about how they're handling pressing matters like shifting communications needs, mental health support, and the near-constant pivots that COVID-19 still requires of them. Businessolver's Chief Engagement Officer Marcy Klipfel talked with Lori Dow Akers of Medtronic, Mia Smallman of Halliburton, and Jamie Shuford of The Hartford to get the skinny on what's working—and sometimes what's not—for these HR leaders.
Own the Vision
In our last session, our fearless leader Businessolver CEO Jon Shanahan chatted with our attendees, sharing how our company responded to the challenges of 2020 both internally and for our clients and partners. He also shared his unique perspective about what's ahead for benefits like more flexibility, the future of compensation, and bringing women back to the workforce.
Own the awesome
Last, but certainly not least in our jam-packed day was our first-ever Solvies Award show. Here, we honored our clients—our valued partners in service and product delivery—for how they are exemplifying Businessolver's four value pillars of Perform, Engage, Innovate, and Give Back in their own corner of the world.
Attendees thoroughly enjoyed a cocktail class (and a cocktail of their own) and a digital magic show from Digital Deception, who helped us both toast and celebrate a whole group of special clients and HR professionals.
This year's award Solvies winners are:
Perform Award: These individuals perform at the top of their game
Jenni Lee, Amway—Manager, US Benefits/Global Programs
Jessica Roeder, Sinclair Broadcast Group, Inc.—Senior Benefits Specialist
Melissa Donahue, EMD Millipore—Head of North America Benefits
Engage Award: These individuals engage with heart and soul
Michelle Cotton, Envision Healthcare—Director of Employee Benefits
Brooke Brown, Sierra View Medical Center—HR MANAGER
Jenny Tour, Bob Evans Restaurants—Sr. Director Compensation, Benefits, HRIS and Workers Comp
Innovate Award: These individuals innovate to benefit others
Christin Deacon, State of New Jersey—Director of Employee Benefits & Policy and Planning
Debi Burnette, CEBCO—Eligibility and Billing Specialist
Laura Collins, LoanDepot—Vice President of Benefits
Give Back Award: These individuals give back in attitude and actions
Kelly Wittich, Wespath Benefits and Investments—Health Plan Director
Matt Duprey, Domino's—Benefits Manager
Patricia Wettlaufer, Hartford Healthcare—Director of Health and Welfare
Own It Awards: These individuals exemplify our overall Vision theme of OWN IT
Paul Glauser, CRH Americas, National Director of Benefits – He owns the early adoption of technology and innovation.
Christina Beam, Battelle—Benefits Manager – She owns her HR role and the entire benefits experience for her team and employees, from the big picture to the smallest details.
Sherri Collier, WastePro—Benefit Analyst — Sherri owns the transformation of her benefits department going from reactive to proactive like a pro.
One day down, one to go! We're excited to see what our speakers, guests, and attendees bring to the table as we'll cover benefits innovation, communication strategies, LinkedIn's LiftUp! Program, a compliance session on the Transparency Rule and the No Surprises Act, and hear some "pearls of wisdom" from featured keynote speaker, Carla Harris, Vice Chairman, Managing Director and Senior Client Advisor at Morgan Stanley.
It's not too late to join us and OWN IT on day two! Click below to register for tomorrow's free, all-virtual sessions.