We are very excited to welcome our new COO, Amit Jain.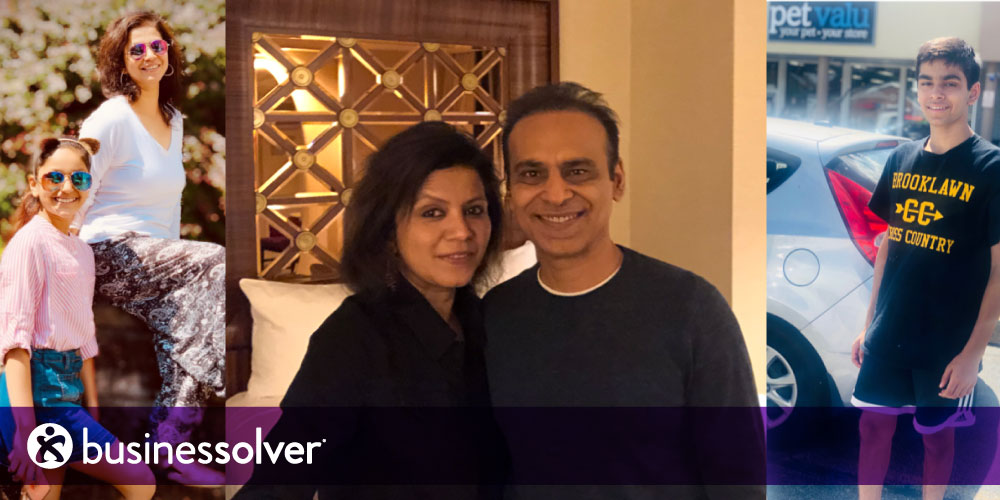 I recently sat down with him to ask a few questions about his experience and journey in the tech and benefits space. Here's the interview.
Why did you choose to join Businessolver?
I chose Businessolver to be a part of growing, fun and innovative company that is a recognized leader in ben admin space. I wanted and am very excited by the challenge of scaling our operations and making us more efficient and nimbler as the business continues to grow. Overall, to create a positive impact on our client and solver experience.
Service is so incredibly important. How will we continue to achieve superior service for our clients and their workforce?
Firstly, with a continued commitment and dedication to our clients.
Secondly, through tight collaboration between our various operations functions (client ops, shared services, tech and member services) so we are all working as "one team" to deliver timely customer delight.
A renewed and continued focus on quality to ensure we have a good understanding of client needs and requirements. And of course, checking the quality of our work appropriately so we deliver quality in every single interaction with our clients.
Finally, we need to continue to automate processes and reduce or eliminate manual processes so we get more nimble and efficient.
What new strategies are you excited to implement with Businessolver?
Service excellence. I'm excited to deploy service models that deliver customer delight with focus on quality and efficiency. Businessolver already has an incredible company culture. We need to continue to cultivate a culture of collaboration, transparency and accountability.
As I mentioned above, it's also important to work towards and implement continuous process improvement and automation so we can continue to be nimble and efficient.
Lastly, I'm super excited to be working with our very talented teams and look forward to empowering Solvers for success with training, coaching and career development opportunities.
How do you see customer service changing through COVID?
During these unprecedented times, it's so important to stay close to our clients so we can understand their changing preferences in real time. Being able to engage clients and meet their needs through an omni-channel approach while accelerating digital channels such as digital self-service and AI will be critical.
I think there should be an increased focus on collaboration across various internal service functions so clients can quickly get what they need and support their employees. With so much change, it's imperative to build agile capabilities (organizational and technical infrastructure) to ensure service delivery continuity in these difficult times. Also, effective engagement and coaching of service associates in a virtual world is really important so they can continue to be high-performing.
As we gear up for annual enrollment, our benefits super bowl, what advice do you have for our Solver nation and client family?
For Solvers, focus on delivering a high-quality client experience. I'd like to harken back to our no drama philosophy and encourage ownership and accountability. Think like a small business owner and have empathy. We are benefits subject matter experts, be a guide towards best practices. Clearly outline timelines for client deliverables (plan info, rates etc.) and set expectations so we can put our best foot forward. And I may sound like a broken record but following the correct process to ensure consistent delight is so important.
For clients, with the pandemic many of them are shifting to a more digital experience. I would encourage them to leverage their digital channels to communicate AE information to employees and encourage employees to enroll digitally as well. Communication is key. Frequently leverage digital communication to remind employees to enroll during the AE window to ensure progress throughout.
What are some fun facts about you?
I ran a toastmaster's public speaking program for middle school kids in the neighborhood that was a lot of fun and incredibly gratifying. I also volunteer frequently at our local food bank.
In my spare time, I like to play squash and love to get outdoors to hike. I hiked the Grand Canyon rim to rim a few years ago. Now, travel is a little more complicated but before the pandemic I loved to travel and have traveled extensively across Europe and Asia.
Can you share some details about your background and professional journey?
I have 15 years of experience in business strategy, operations and general management.
Prior to Businessolver, I served as the general manager of benefits administration and talent solutions at ADP. I have also served as the head of strategy and business development for ADP Major Accounts and ADP Small Business Services where I led strategic planning, market research, business development and execution of key strategies around growing market share, increasing penetration of ADP products and improving client experience.
Prior to joining ADP, I spent six years at Aon Corporation, where I held numerous strategy and operations leadership roles.
I received my MBA in Strategy, Marketing & Finance from the Kellogg School of Management at Northwestern University. In addition to strategy and operations, I also have a well-rounded background in technology from my product development work experience at Motorola and a second master's in computer science from Case Western Reserve University.
{{cta('fb5db79e-f2a5-4879-a0f1-4445121c2d7d')}}