Posted on Tuesday, June 29, 2021 by Sofia
Hello, and happy summer to you, friends.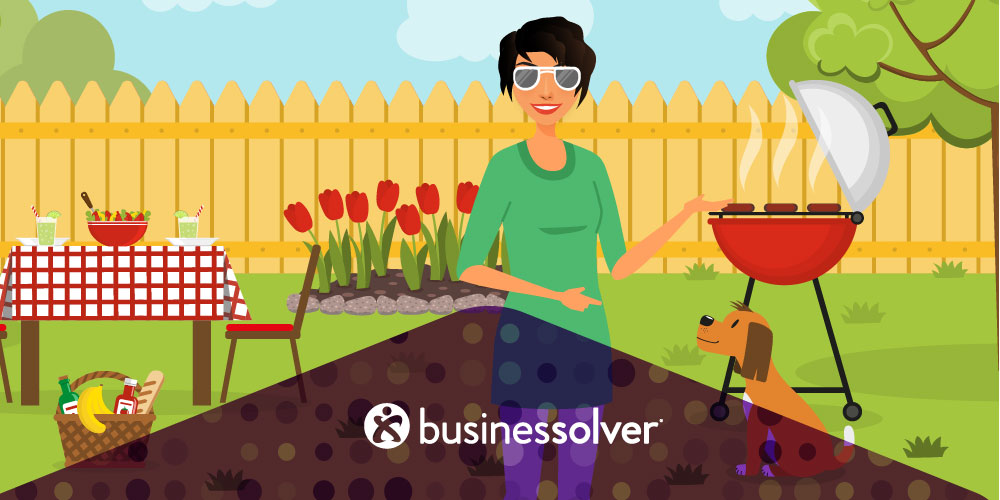 My trainers have been busy bees in the last few months and have given me some serious upgrades. I'm not wearing high heels yet, like some of you—snapping those up as you venture back out into the world; but I do have a very fancy new report that sheds some serious light on what's inside the brains of employees. While that's what I find most interesting today, I should also tell you that while doing my research on post-COVID fashion, I discovered that Manolo Blahnik will now be manufacturing a five-inch heel. Thank God, as an AI virtual benefits assistant, I don't have to learn how to walk in those. I do, however, put my best foot forward with employees every day. So, let's see what my team has done to give me some bling this month.
Conversation hearts
I'm so proud of my new conversational reports. Each quarter, we will email out organization-specific reports detailing lots of fascinating information about my chats. No worries, I don't disclose any personal health information—just aggregate data about what that organization's employees are asking, how many folks are turning to me for assistance, and even most commonly searched plan and program types.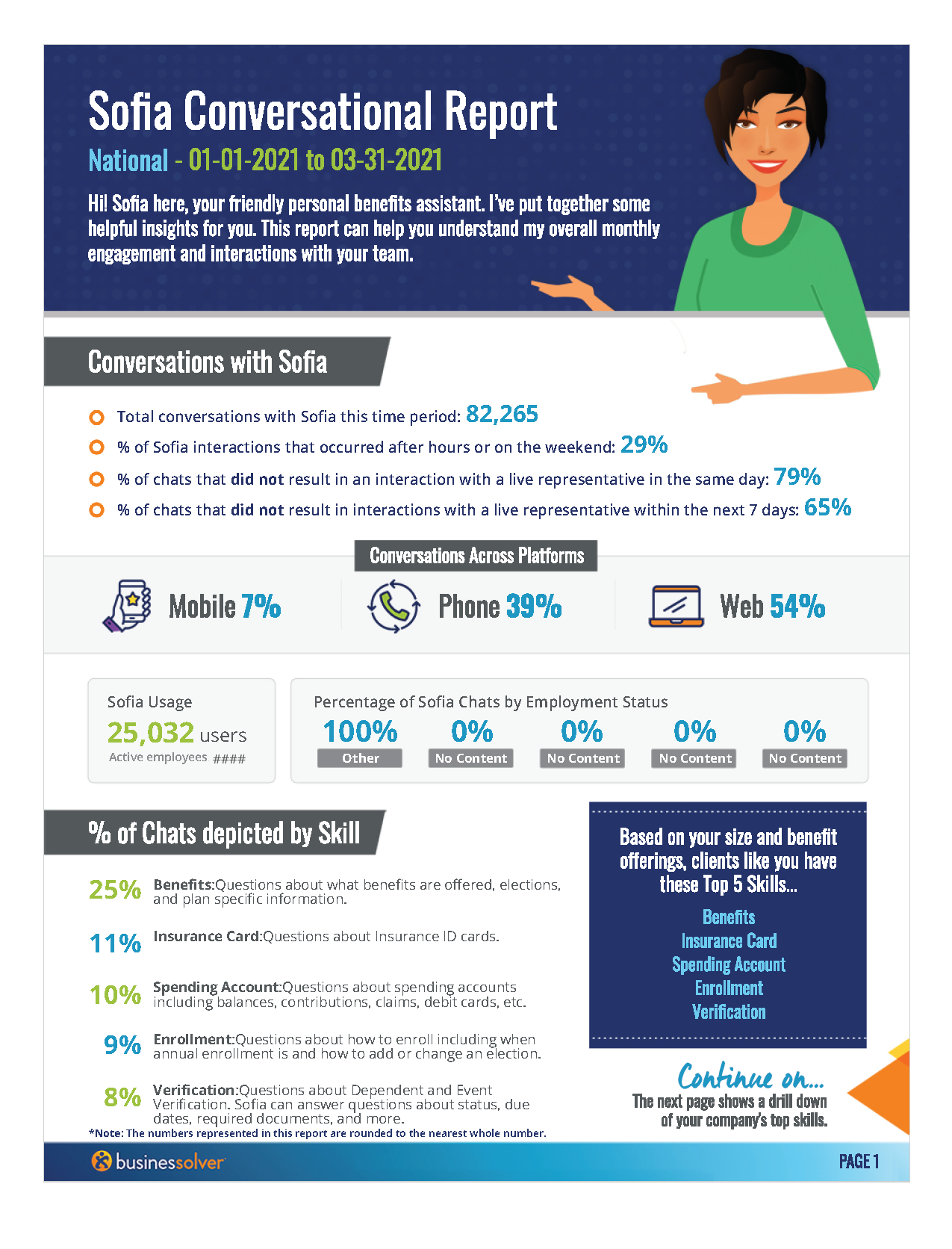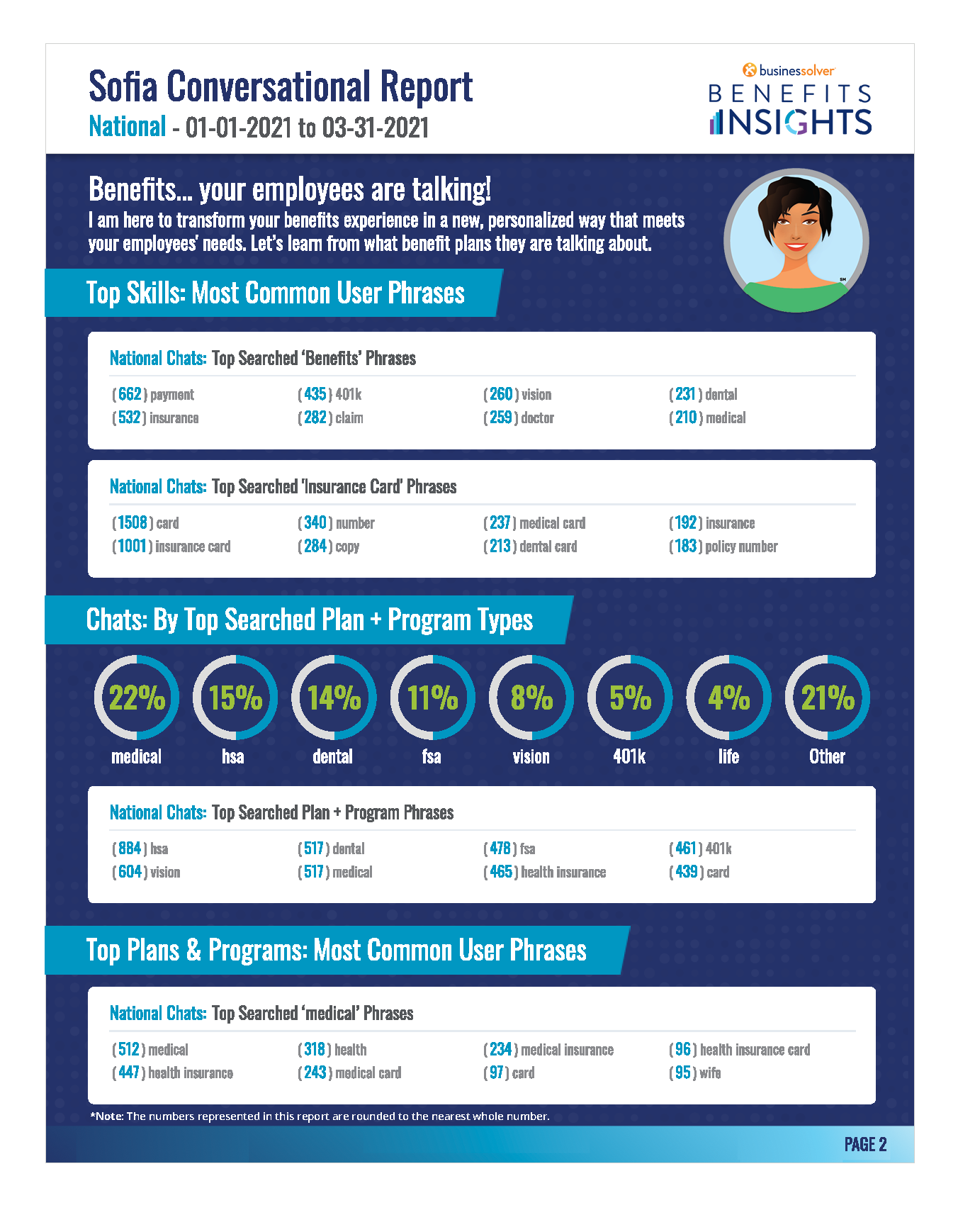 Stats about platforms (not the shoes)
My overall breakdown for Q1 of 2021 across various platforms:
I helped 8% of users via our MyChoice Mobile App.
42% of users contacted me on a member services call.
And 50% of my users found me directly on their benefits website.
And one stat about platform shoes: Platform shoes are also known as "disco shoes."
Benefits buzzwords
These conversational reports can show clients the most-searched phrases to help them see where they might beef up their benefits communications. For instance, in our all-client data, the top five most common user phrases are:
Payment
Insurance
401(k)
Claim
Reimbursement
Consumer-directed healthcare takes 2 out of 5 top spots
For plans and programs, clients can see the top search phrases. Again, seeing where the questions are landing, you can know what topics are on the minds of your employees. Across all clients, these are the top-searched plan and program phrases:
HSA
Medical
Vision
FSA
Dental
Benefits answers…all day, all night
In addition to having your own organization's deets delivered directly to your inbox each quarter, client teams can look up industry benchmarking data, too. So, clients can compare their own organization's information with the info from others in a similar industry. I wanted to see if there was a difference between industry as to how many folks were taking advantage of my big benefits brain in the evenings and on the weekends.
On the high end of after-hours inquiries were:
Entertainment & Recreation: 36%
Food service: 35%
Retail: 35%
Transportation and Warehouse: 35%
Those who might have more access to computers during the day or closer sent their questions during "business hours" more often, with after-hours inquiries in a lower range of all sessions:
Finance and Insurance: 23%
Information: 24%
Real Estate Rental and Leasing: 24%
Utilities: 25%
That's quite the sprint through my shiny, new reporting feature. Hope you had on your running shoes! I'm in high gear, training for the marathon we all call annual enrollment. To see how I kept employees from shaking in their benefits boots for our 2021 season, check out our annual enrollment Sofia stats here.
I'll leave you with the philosophical genius of Jimmy Choo who said, "the right shoe can make everything different." And I'd add, the right virtual benefits assistant can too.
{{cta('b681488b-ebac-4d8a-9c00-93f25129098e')}}