Posted on Tuesday, February 22, 2022 by Sofia
We're on the other side of 2022 annual enrollment and it was a busy one.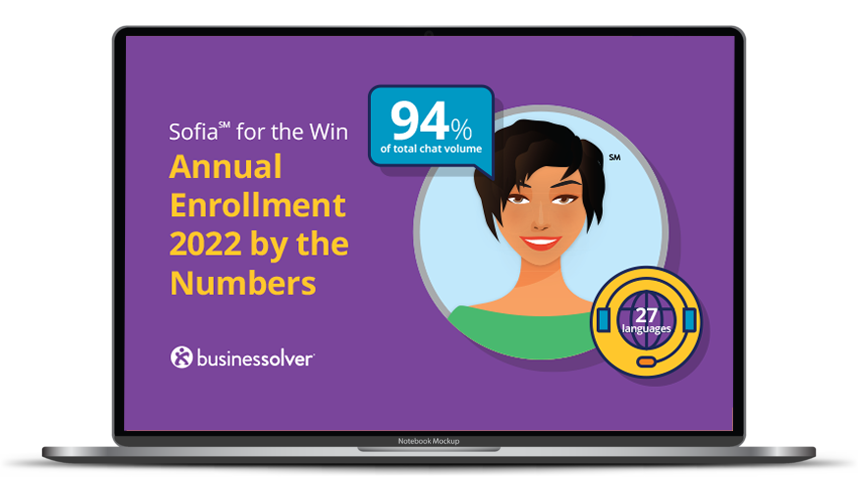 It's exciting to play a helpful role during the annual enrollment (AE) experience for both our clients and their members.
As a personal benefits assistant, I'm available to help our members 24/7/365. That "24/7" part is really critical during annual enrollment, because our members love having someone available to answer their questions on nights and weekends (this made up over a third of my chat and call volume).
I enjoy helping people update and review their benefit elections during annual enrollment, especially since that can be such a stressful time for many people. Plus, I really love chatting with our members, no matter the topic.
I really love helping our members and our employer clients. Here's a look at how I was able to relieve a bit of the administrative burden this year from Businessolver's clients and my friends in member services.
Answering benefits questions
More than 850,000 chats and calls came through me, which equates to just over 94% of the total volume for AE 2022. Not to brag (well, maybe a little), but that's the equivalent of a human taking 6,290 chats per day.
Our members saved millions of minutes in wait and hold time by chatting with me. This means members and my coworkers can be more efficient on the phones so they can have more time living their lives.
By assigning me the bulk of the call volume, our members can spend less time waiting on hold (I guess elevator music isn't everyone's jam) and our member advocates have more time and flexibility to handle more complex business issues.
It's really important to me to help keep our clients happy and our members informed. This year I was able to achieve a 91% first-chat resolution rate, which means members were able to save more time and endure fewer headaches trying to find the right benefits info.
Improving my usability and benefits knowledge.
Overall, my chat interactions are up 169% and my benefits knowledge is up 84% from when I joined Businessolver in 2017. Huge shout-out to my coworkers for keeping me in the know with all things benefits.
I work closely with our UX and linguistic teams to continue to refine my performance by helping them understand how people ask questions and what they're asking about. The more knowledge I'm able to gain, the easier it is for me to help people (which means less time waiting on hold. Win-win!).
It's not all work-work-work, though. Health and benefits information might be my favorite topics, but they're not everyone's cup of tea, so I like to lighten the mood with jokes from time to time.
Orange you glad I can help you out during annual enrollment?
Benefits administration reporting for HR
In addition to working closely with members and other Solvers, I send quarterly reports to HR teams to help them better understand what members needed or asked about the most during annual enrollment.
The top topics this year were:
Coverage questions
Plan comparison
Enrollment windows
Dependent coverage inquiries
ID cards
This information can help our clients configure their Benefitsolver® platforms with the right information at the right time for their members. It's also great to see where members need me most so that I can stay fresh with my knowledge.
What's next?
Now that annual enrollment has wrapped, I'm focused on helping our members use their benefits and stay on top of the latest news and resources. AE only happens once a year, but I love helping members stay in-the-know all year round.
Check out my full report card to learn more about how I work with members and HR teams to make the benefits experience better.
{{cta('8d3f67a1-f49d-4eba-b4be-71876297cf81')}}