Posted on Thursday, July 30, 2015 by Natalie McLinden
Last week during our One Wallet webinar we asked our participants how long they thought most employees spend making their benefits elections. 38.5% of attendees estimated that employees spent less than 10 minutes enrolling. 10 minutes! Think about the impact—and price tag—attached to that decision, and the time spent on it. Seems a little surprising, right?
We did a little research of our own within our enrollment system, Benefitsolver, and found that our webinar participants' estimate wasn't that far off. We found that our members, on average, spend 19 minutes making their benefits elections. That isn't because people think it is unimportant (according to a study by Maddock Douglas, 84% think it is very or extremely important) and not because it isn't a sizable investment (costs average $4,000 for the member and a whopping $19,000 for the employer), but because it is overwhelming and icky to think about. So how do you make the most of those precious 19 minutes?
From avatars to videos, there's certainly no shortage of enrollment tools available to HR today that promise to make the most of that short enrollment window. But with benefits offerings getting more and more complex, it's not just about supporting a decision. That's the old way. It's about making recommendations to help people make better decisions that factor in health, wealth and emotions. With all of that complexity, how is HR expected to help employees see the whole picture? We've taken decision support one step further and developed a holistic recommendation engine, MyChoice℠, that helps employees see and understand the bigger picture.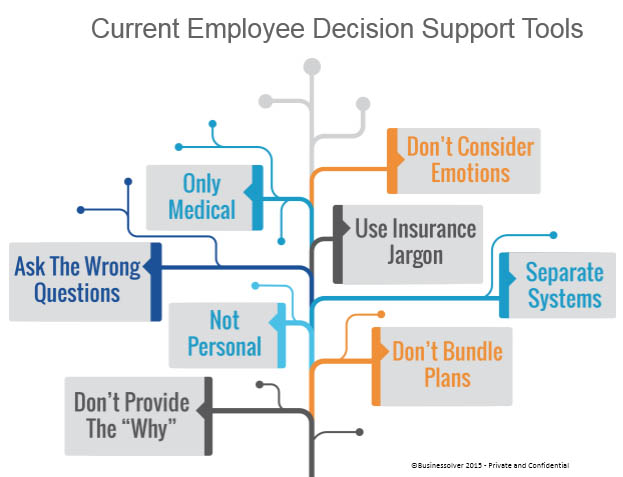 How does a recommendation engine differ from today's decision support tools?
1. Most tools don't consider the emotional side of buying insurance. MyChoice looks at each individuals' feelings toward the risks they might be facing.
2. Most tools are asking the wrong questions. MyChoice asks specific questions to get to the various needs of each individual, from health to wealth.
3. Most tools provide only a medical recommendation. MyChoice looks at all benefits being offered to provide a holistic recommendation.
4. Most tools use confusing insurance jargon. MyChoice strips this away and asks simple, easy to understand questions.
5. Most tools don't provide the "why" behind their recommendation. With every recommendation, MyChoice provides information on the benefit being recommended and why that recommendation was made.
In the end, it's all about providing peace of mind. Our mission is to make it easier for employees to navigate complex decisions which is why we've built MyChoice, a recommendation engine that can factor in the needs with the emotions to give employees confidence in their benefit elections. Is your decision support tool able to factor in the whole story to give a holistic recommendation?
{{cta('5c9a6378-b659-4214-88ab-7a8ceb97aca0′,'justifycenter')}}