Posted on Tuesday, May 4, 2021 by Businessolver Team
If there is one thing you need to know about me, it's this. I am a Bruce Springsteen fan.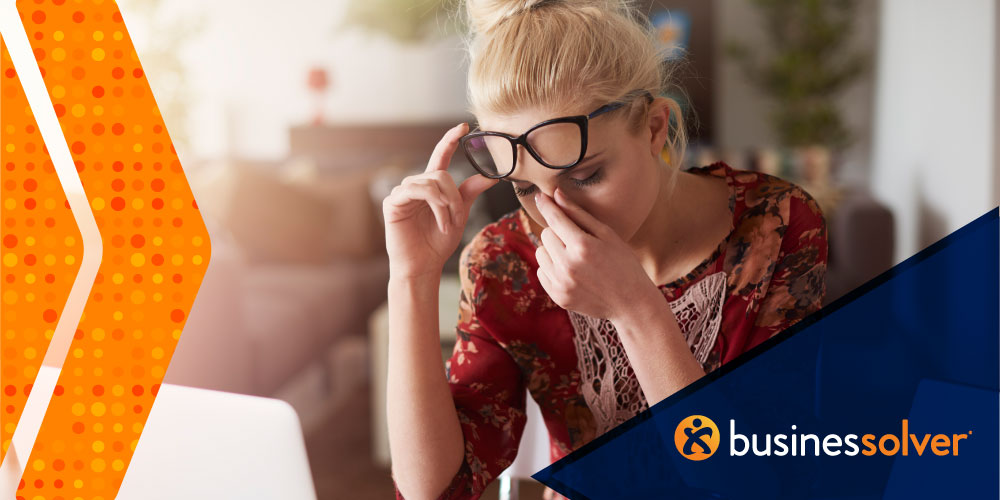 Since the pandemic hit its stride in April 2020, many of us joined Springsteen's ranks. We are talking and thinking and posting about depression, anxiety, stress, burnout and loneliness almost daily.
And we should be. Between April of last year and March 29, 2021, 34% to almost 45 % of U.S. 18 to 64 year old adults indicated they were anxious and/or depressed in the Household Pulse Survey. That's up from a steady 11 % (recorded in January through June of 2019).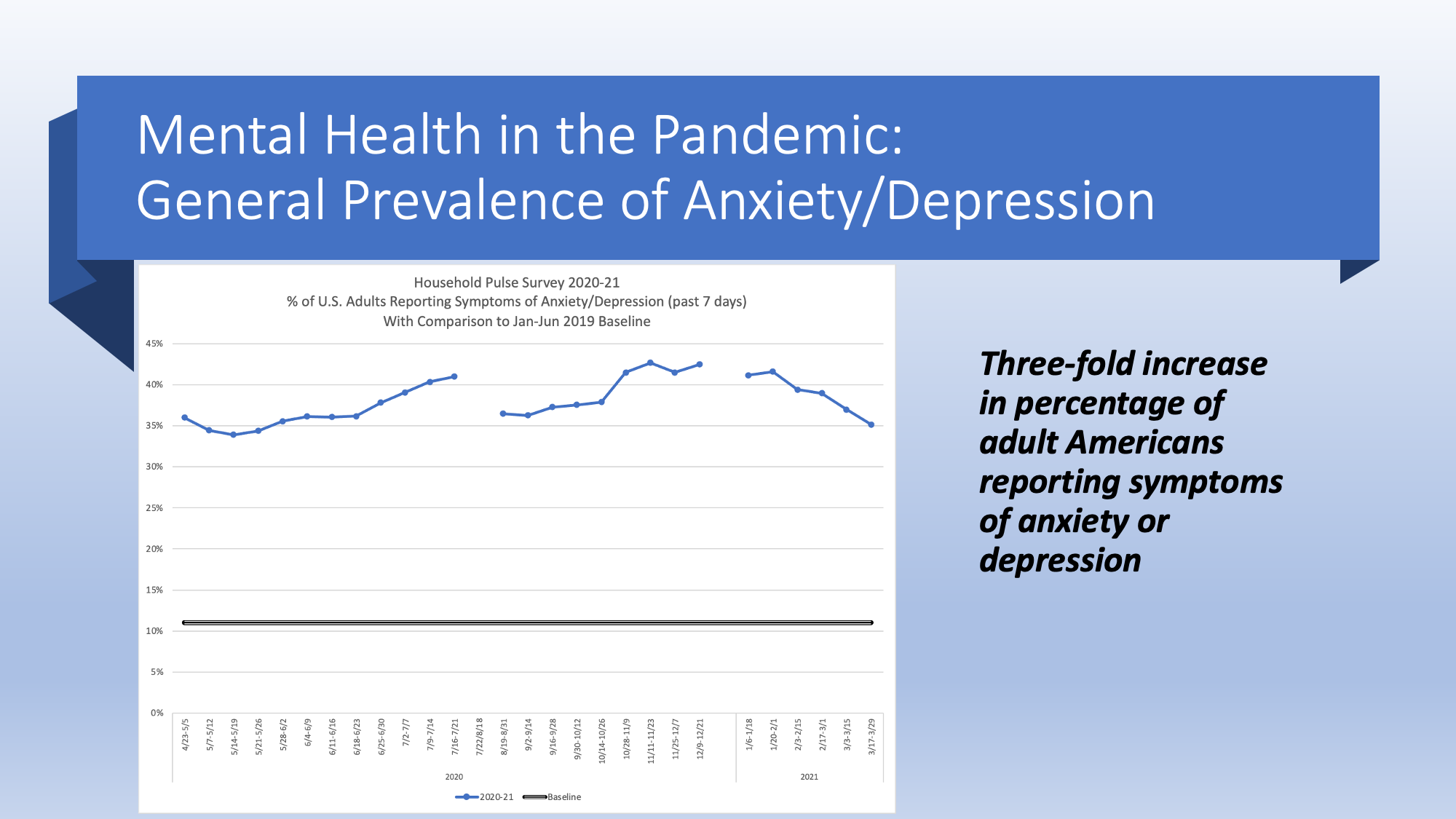 Is this trend new for the United States (and the world for that matter) or were we struggling before SARS-CoV-2 came to our towns?
Deep insight about one township's health (including mental health) comes from Dunedin, New Zealand. The Dunedin Multidisciplinary Health & Development Study is an ongoing prospective study that's followed the lives of 1037 babies born between April 1, 1972 and March 31, 1973 at Queen Mary Maternity Hospital, since their birth almost 50 years.
A group of Duke researchers mined the Dunedin Study data and determined most people will develop a diagnosable mental disorder during their lifetime, suggesting only a minority experience enduring mental health.
Put another way, the study shows you are more likely to experience a bout of mental illness (at least briefly) than you are to acquire diabetes, heart disease or any kind of cancer whatsoever. Other researchers corroborated these findings from similar cohorts in New Zealand, Switzerland and the U.S.
So the underpinnings for susceptibility to mental health challenges were always there. The pandemic then became the straw that broke the camel's back—especially for adults under 45 years old.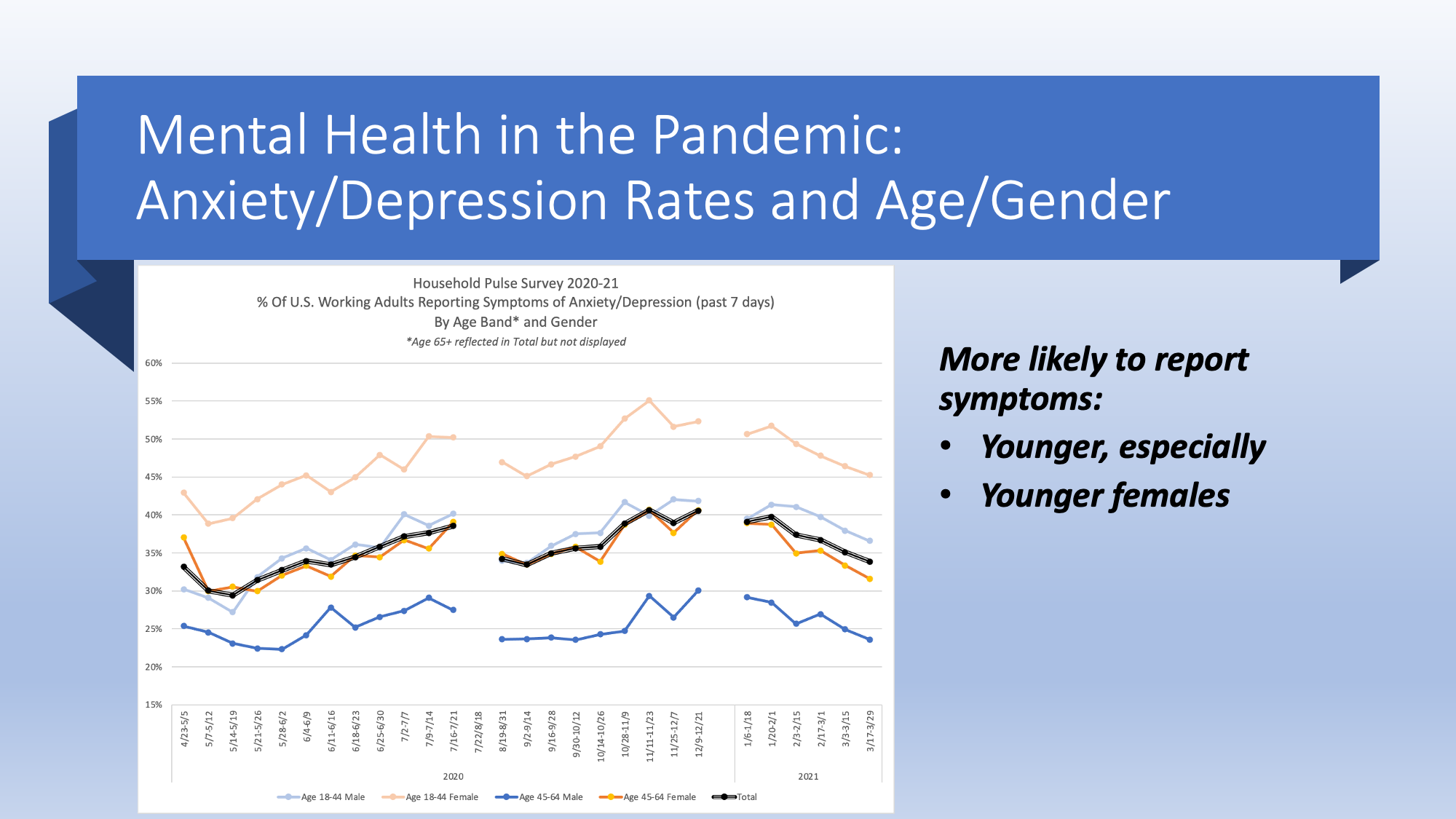 The Council for Disability Awareness' research committee published the results of a project done in cooperation with MDGuidelines in October 2020 in the Journal of Occupational and Environmental Medicine. The study examined matched disability and medical claim data, and summarized the impact of mental health on absence from work, and absence on future mental health challenges. Fraser Gaspar, PhD, was the lead author.
The researchers found that depression and anxiety are both risk factors for and subsequent outcomes of injuries or illnesses that require a work leave.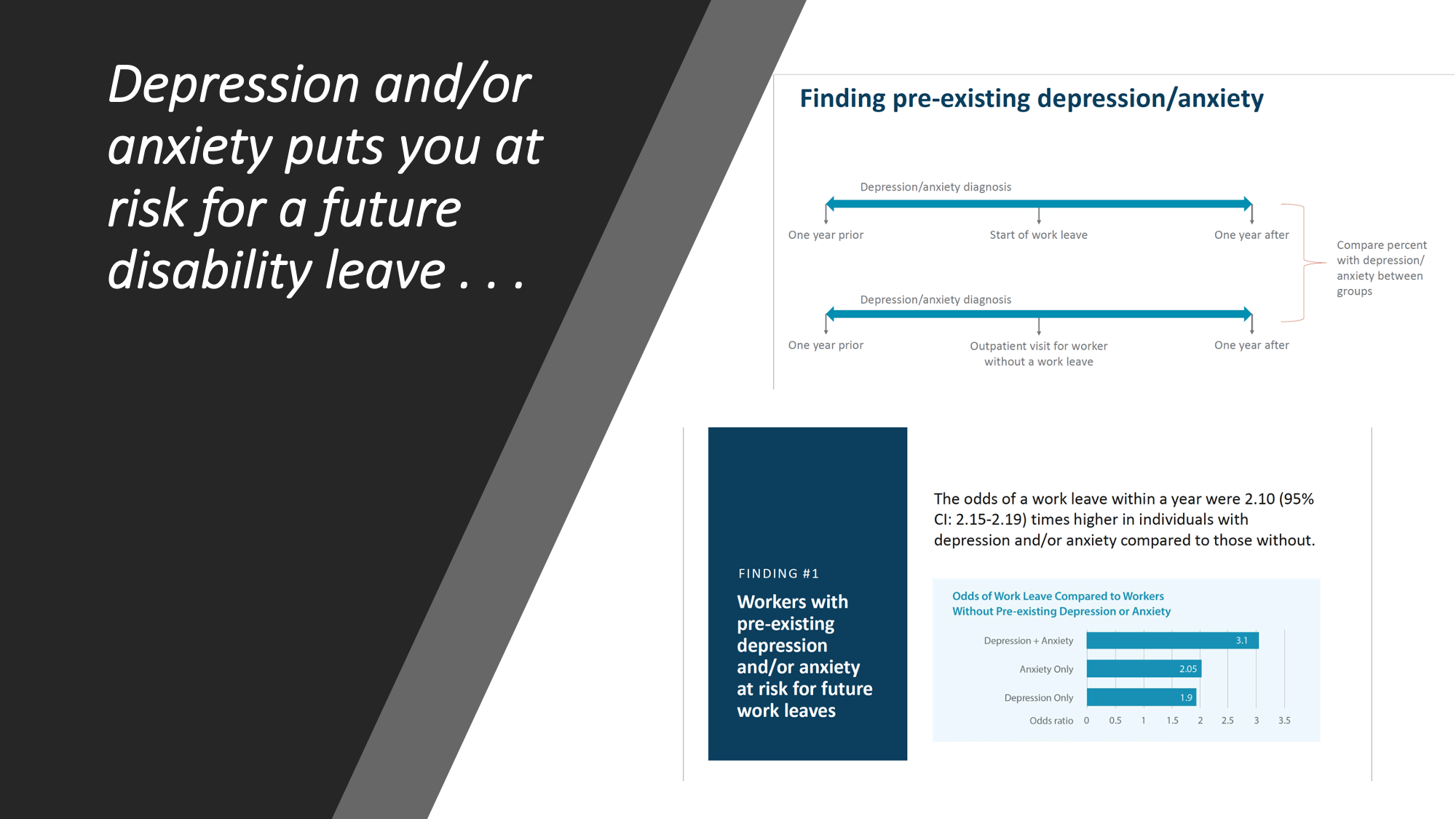 Specifically, the odds of a work leave within a year were 2.10 times higher in people with depression and/or anxiety compared to those without. And the odds of developing a new-onset depression and/or anxiety within a year of an absence from work was 4.21 times higher in individuals with a work leave compared to those without.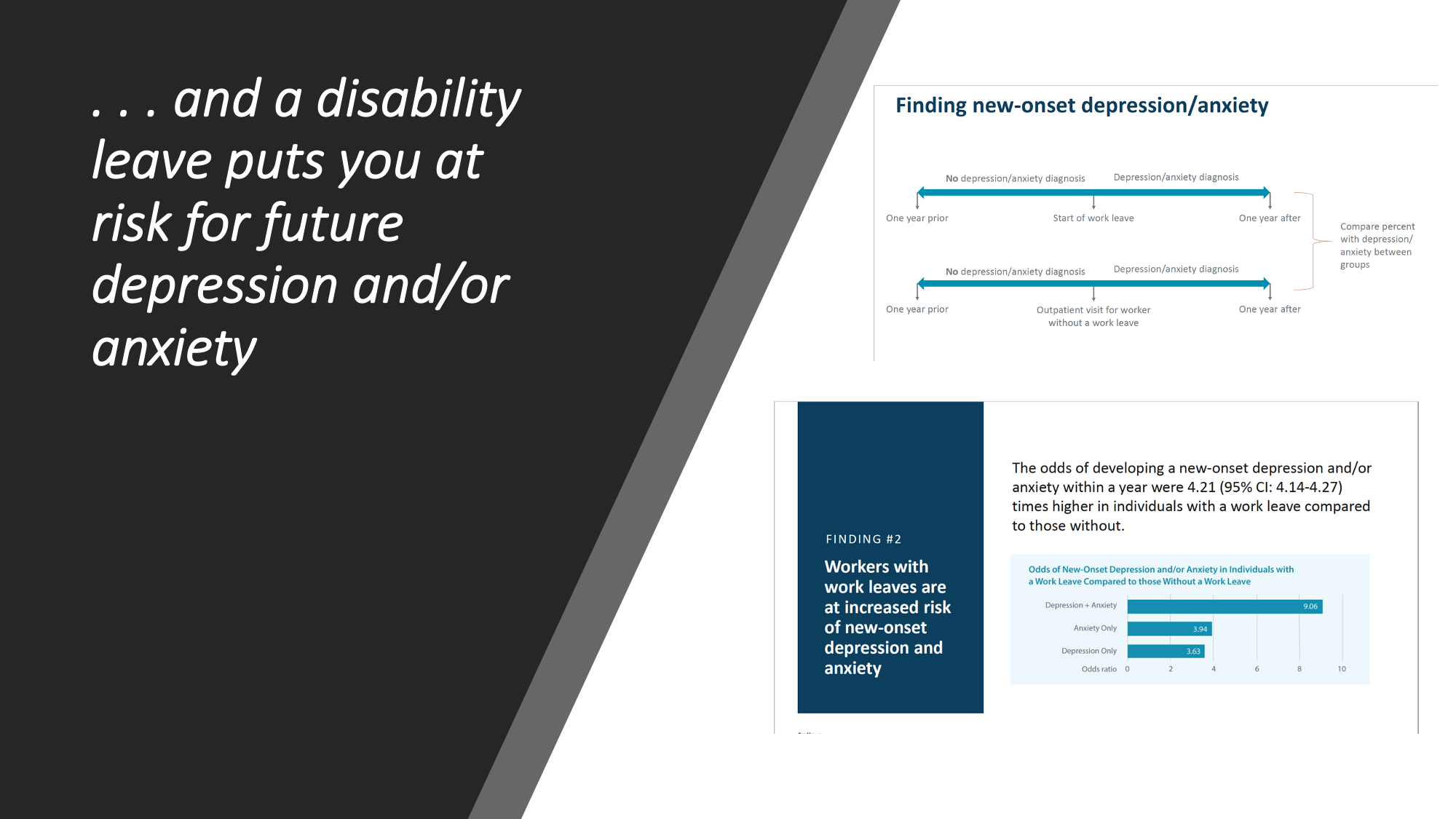 Given that the United States now has approximately 35% of working-age adults indicating they are anxious and/or depressed, we need to jump into action. The JOEM-published study results indicate this group has more than a two-times greater risk of a work leave in the next 12 months than those who are not currently anxious or depressed.
Join us in our upcoming panel on May 6th at 10:45 am MDT (Own Mental Wellness: Hope for the Whole Employee) at Businessolver Vision 2021.
YouTube's Jessica DiVento, Tanner Krause of Kum & Go, Cigna's Jason Youngblood and I will be talking with Rae Shanahan about what can we do to offer awareness, education and support to people – beyond employee assistance programs.
{{cta('c753feaf-2c68-4621-9c64-0b52d2ced668')}}