Posted on Friday, August 14, 2015 by Natalie McLinden
Last week we kicked off Security Awareness Month at Businessolver by encouraging some serious hacking. We cheered on our VP of IT Systems, Tom Pohl, as he headed to Las Vegas to compete at the 23rd annual DEF CON® Hacking Conference in the Network Forensics Puzzle Contest. Out of four years of competing as an individual, against teams, Tom has consistently placed in the top four each year. We are delighted to announce that this year, he did it again, taking an impressive 2nd place!
Out of 168 registered teams, Tom was one of only three to complete all six rounds, finishing in just over 49 hours. Here's a look at the final standings: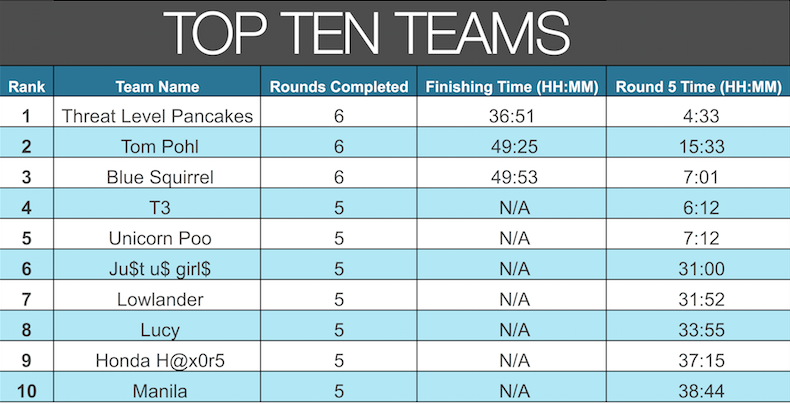 During the competition, Tom was able to use several different methodologies and techniques to hack his way to the top. While it might seem like all fun and games, keeping up with new cyber attack methods and tools is actually one of our most important data breach prevention techniques. Attending competitions and conferences like DEF CON are a great opportunity to learn how these methods could be used maliciously, and what we can do to proactively prevent them to protect and keep our own data safe.
We're proud to have one of the most notorious hackers around on our team. After all, it takes a genius hacker to protect against one. The good news for you is that Tom, and the rest of the Businessolver team, is on your side battling against potential cyber threats.
Didn't make it to DEF CON but want an inside look as to what happens during a hacking conference? Get an inside look from NBC Nightly News below and keep an eye out for Tom!
{{cta('dd36c2a4-18fc-4acd-ac6e-a6db628ee9c1′,'justifycenter')}}