Posted on Friday, March 19, 2021 by Rae Shanahan
To celebrate International Women's Month we sat down with a couple of our amazing Solvers to explore their journeys in technology.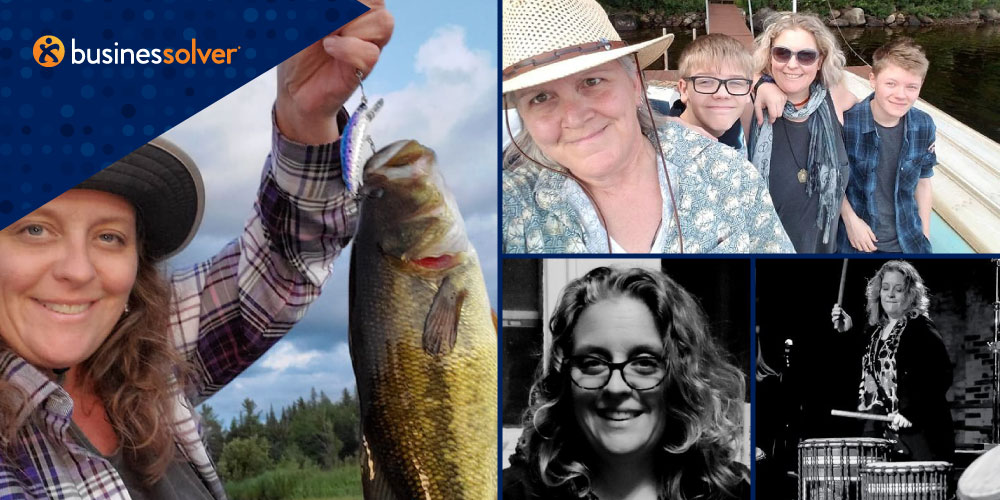 First up, Kimberly Kelley, Learning and Development Team Lead. Kimberly has been with Businessolver for a little over two years and currently lives in Des Moines with her wife and two children. Kimberly is extremely active in our current DE&I efforts and is a leader in our DE&I book club. We wanted to ask her some specifics around her thoughts about International Women's Month and DE&I efforts directly supporting the LGBTQ+ community.
Give us a little bit of background about your career in benefits and technology.
For the last 18 years my career has been in learning and performance. I was first in hospitality management, then the insurance industry and finally made it in the tech space in 2013. I had never supported benefits until I came to Businessolver.
My goal has always been to bring engagement and accountability to learning and development. My first role with a tech company was 100% virtual. This gave me experience being home shored and allowed me to practice and define the best methods for engaging a virtual workforce. Sure came in handy last year!
A recent survey revealed that only 39% of LGBTQ+ employees feel like their organization's management is committed to DE&I goals. With DE&I efforts ramping up everywhere across organizations, what are your thoughts on the process/progress orgs have (or have not) made when it comes to the LGBTQ+ community as a whole in tech?
I can see where the disconnect happens. Every company I have worked for, I have been a part of the Diversity, Equity and Inclusion efforts. Many times I witnessed these organizations not being authentic in how they integrate Diversity, Equity and Inclusion throughout the organization. It becomes a smoke and mirrors effort where it looks good on the outside but don't look behind the curtain.
There is a lot of gratitude in my heart for the efforts happening at Businessolver. It has been unlike anything I have participated in. Completely organic and based in kindness and authenticity. It has probably been one of the slowest moving changes in the organization and this is a good thing! This piece of our herstory (this is not a typo) is important and important things take time. Kinda like wine, ya know?
March is International Women's History Month, do you think there is room for more inclusivity when it comes to highlighting women achievers? Why?
Personally, I would be delighted to fill the proverbial room with more intersectional women: Black women, Hispanic Women, Asian Women, Indigenous Women, Transwomen, Lesbian Women… I could go on and on. The point is, we white women need to sit down and let the light shine on our sisters whose backgrounds make it even more challenging to achieve.
What is your favorite thing to do on a Saturday?
Lately, my favorite Saturday routine is to pick a nearby forest preserve, woodland or state park to travel to. My dog Trixie and I have a great time exploring the woods, getting fresh air and hopefully seeing some wildlife. A couple of months ago we saw a black fox and most recently saw a giant bald Eagle. I always feel better after a trip to the woods.
If you could go back in time, what is some advice you would give to your younger self?
"Gurrrl, what are you stressing for? You got a good brain between those ears and a powerful voice to speak up. Use it wisely. Take a deep breath and think about how you are gonna say it before you do. No one ever died from silence, so be quiet before you speak up!"
For more blogs sent directly to your inbox, subscribe to our newsletter below.
{{cta('3612abb0-7b35-490b-9520-135440c60722')}}