Posted on Friday, March 26, 2021 by Rae Shanahan
To celebrate International Women's Month we sat down with a couple of our amazing Solvers to explore their journeys in technology.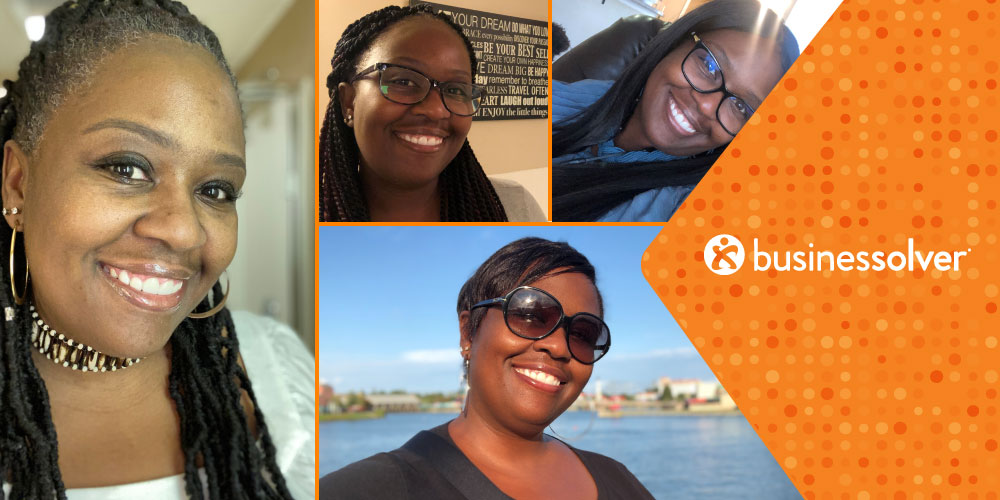 Next up, Patrice Jones, Systems Design Analyst. Patrice has been with Businessolver for two years and currently lives in Virginia with her family. Patrice is extremely active in our current DE&I efforts and was part of our original DE&I committee and book club. We wanted to ask her some specifics around her thoughts about International Women's Month and DE&I efforts directly supporting WOC.
Give us a little bit of background on your career in benefits and technology.
I started my career in the benefits and technology sector in 2001 at Towers Perrin. Having two degrees in mathematics helped me fall in love with the logic needed in setting up systems and sometimes tricking it to meet our clients' needs. I was an analyst on the ongoing side of things for many years. My client really liked me and didn't want anyone else working on their account. They didn't purchase all the bells and whistles we had to offer, so I didn't get to use those features in the system. Since Towers Perrin, I've worked for a few other companies. When I chose Businessolver, I wanted to work on the onboarding side of things so I could learn a lot more. All client needs are different, and depending on what they've contracted us to do, I can touch different parts of the system that I may not have been exposed to on the ongoing side.
With DE&I efforts ramping up everywhere, what are your thoughts to being a woman of color in the technology sector? Do you think things are getting better/worse/the same?
I think that depends on who you are talking to and who they work for. I have friends that are also in the technology sector and they find themselves being used to make their superiors look good and not getting the credit for their contributions. They are being passed over when it comes to moving up sometimes out of fear of people finding out who was the backbone of the department. One of my friends left her job and started at another company recently (good for her!).
At Businessolver, I feel like there are serious efforts being made to make things better. Data is being collected and the company is moving towards giving more people of color the opportunity to have a seat at the table.
What advice would you give other women of color wanting to enter the tech space?
This is definitely hard to do sometimes, but show up every day as your genuine self. Don't feel like you have to hide your greatness to make other people feel comfortable. Continue to be professional, but don't be afraid to shine! GO WITH THE GLOW!!!
What is your favorite thing to do on a Saturday?
My favorite thing to do on a Saturday depends on the season. In the fall, I like to watch my son play football at Clemson. GO TIGERS !!! If it's baseball season, I love watching my youngest son play baseball. He'll be in college next year, so I'll be watching him play on Fri-Sun! I'm really excited about that. I have an 8 month old grandson now, so I guess in about 5 years, I'll be watching him play t-ball on Saturdays! I CAN'T WAIT!!!
If you could go back in time, what is some advice you would give to your younger self?
Oh wow. This is a GREAT QUESTION!! I'd tell myself to allow myself some grace. Don't sweat things I can't change and take time to take care of me. Too often, we find ourselves playing the role of Superwoman. Super-wife, super-mom, super-friend, and super-employee. Take time to push reset. Remove yourself from everything for a minute. (Hopefully the world won't fall apart while you're gone).
Read our other Diversity in Technology Leadership interview here.
{{cta('3612abb0-7b35-490b-9520-135440c60722')}}