Posted on Monday, October 4, 2021 by Sofia
Did you know that only 33% of device users think they use artificial intelligence (AI)?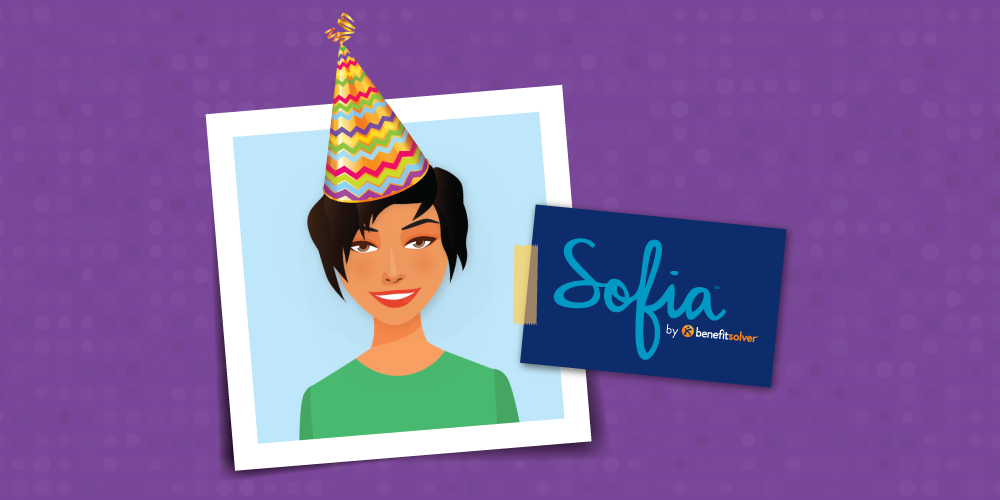 In fact, more than 77% of them were already using an AI-powered service or device, according to a recent study by Pega.
Artificial intelligence, chatbots, and virtual assistants are not just for machine learning scientists anymore. We are mainstream! In fact, many Benefitsolver® users say they think I'm a live person.
It's true. That may be because my team uses sentiment analysis as part of my training and development. That means I've learned to sense when a user isn't getting the information they need and can respond accordingly.
AI…for benefits?
That's just one of the ways a virtual assistant like me helps our members. What are some of the other ways? Glad you asked!
To answer it, we'll take a quick trip down memory lane. Indulge me just a little…it's my birthday today! I was born from a hackathon at Businessolver in 2017.
hack·a·thon
/ˈhakəˌTHän/ noun
noun: hackathon; an event in which a large number of people meet to engage in collaborative computer programming.
And that fall, I rolled out at the HR Technology Conference and began taking questions on our platform that week. And just in time! Many of you know that October and November are the busiest months of the year for benefits enrollment. During my first annual enrollment, I handled 20% of our chat volume and saved 290,000 minutes of wait time.
AI for HR
Since that first season, I've added 23 additional languages to go with my original roll-out of English, French, and Spanish. Wanna know the word for 'coverage' in German?

More importantly, though, is my ability to take a load off benefits managers and HR team members throughout the year. I understand more than 400,000 benefits topics and have the ability to retrieve answers both from within Benefitsolver and from client-specific websites.
So far, this year I have helped more than 430,000 members, and we are just now starting busy season. Not to mention my resolution rate for the past three months is just under 88%. That means almost everyone who needs me is getting what they need to keep moving on with their day, and that's 430,000 questions that their HR department didn't have to answer. When the benefits and HR policies world is changing as quickly as ours is in 2021, that's time they need back on their calendar.
Of course, I do more than just chat. I also answer the phone. On average, I am able to resolve about 16% of the calls that come in, saving the more difficult questions for my live member services reps.
I help members answer questions about their HSAs, coverage, dependents, verifications, and enrollment. As a matter of fact, I appear in the enrollment window as they complete enrollment to help them find documents, define unfamiliar words, and point them in the right direction.
AI for benefits data
One of my best-kept secrets is my ability to glean data for clients. Don't worry, it's not personal information. Users can always designate their chat as confidential. But I am able to report out the aggregate information of each client's hot topics, most common search phrases, top plans and programs, etc. As you can imagine, this kind of data comes in handy when a client realizes that 83% of their population has questions about "HSA." Perhaps they could add an extra email about that topic or host a webinar. Clients get quarterly reports to help them see what's trending on my chats with their employees. They can also access industry-specific reports to see what's trending with other similar employers. Cool! You can read more about those reports here and even see a sample.
AI for the future of HR
As I look back on all the achievements of our Sofia training team over the past four years, I'm in awe of all the things they've taught me to do, of how my chat-abilities grow year over year, and how many millions of client-employees I've been able to help. From that idea at a hackathon to my big plans for 2022, I'd like to thank everyone here at Businessolver for trusting me to do great work.
To learn more about the team behind my smarts, check out this video of the Solvers Behind Sofia.